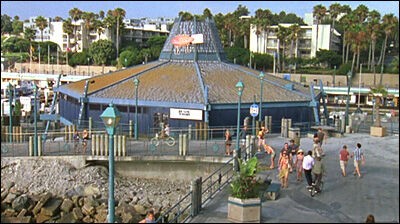 The Bait Shop is a club near the beach in Newport. There are often live acts like Death Cab for Cutie or The Killers. Sandy Cohen performed there as well as a 20th anniversary surprise for Kirsten Cohen.
In Episode 3 (Season 2), the guys read a flyer about an upcoming concert at "the new place on the pier". Seth wants tickets badly enough to beg Alex (the female bartender at the Bait Shop) for a janitor job at the club, which he gets leading to a brief affair with Alex.
The Bait Shop is seen often on the show, during Seth's pursuit of Alex (Season 2 Episode 13), "The Test", and when the kids are attending concerts.
In Episode 8 (Season 2), "The Power of Love", Sandy surprises his wife with a party at the Bait Shop and takes the stage to sing.
In Episode 27 (Season 2), "The Dearly Beloved", there was a shooting upstairs there (involving Trey's girlfriend in a botched drug deal).