The forth and last season of The O.C. includes 16 Episodes. To see music featured during this season, see Season 4 Music.
Notable Plots
[
]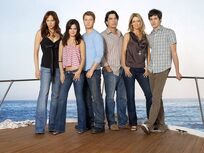 Julie and Kirsten, continue to manage their dating agency, but at some point, problems will arise, with the management of it.
Summer's evolution into a hippie-girl on Brown and her getting expelled from Brown because of

Ché

.
Kaitlin's teenage-problems and friends.
Sandy's change's job, going from manager of the Newport Group to public defender.
The unexpected return of Ryan's biological father,

Frank Atwood

.
Taylor's marriage, with a

writer

, and their subsequent divorce.
Ryan, starts to have feelings for Taylor, which end, to be explored, when the two, begin a relationship.
Kirsten's second pregnancy and the transfer of her and Sandy, into their old home in Berkeley.
The beginning and the end of the love story between Julie and

Frank Atwood

(Ryan's biological father), which results in a

pregnancy

.
Main Cast
[
]
Trivia
[
]
This is the last season, due to the very low ratings.
It's the first season to have less than 20 episodes coming up at only 16.
This is the only season in which doesn't appear : Mischa Barton.
Episodes
[
]
Picture
Title
Episode #
Writer
Episode #
The Avengers
4.01
Josh Schwartz
November 2, 2006
Ryan works and lives in a bar, Seth works in a comic book store, Taylor lies about being in Paris and Summer has become a tree-hugging vegan. What madness is going throughout Orange County?
The Gringos
4.02
Josh Schwartz
November 8, 2006
Seth tags along with Ryan who travels to Enseniada, Mexico to look for the fugitive Volchok, and tries to hold off Ryan from doing something drastic. Back in Newport, there is a clothing drive at Harbor High, where Julie persuades Kaitlin to participate in it, until she learns Kaitlin's true agenda. At Brown University, Taylor pays Summer a surprise visit, but does not want to confide in her about her problems of her own back in France.
The Cold Turkey
4.03
Josh Schwartz
November 9, 2006
Volchok turns to Sandy for advice, without Ryan's knowledge. Summer prepares to face life in Newport as she returns from Brown. Meanwhile, Julie finds herself alone on Thanksgiving when she is not welcome in the Cohen's house.
The Metamorphosis
4.04
Josh Schwartz
November 16, 2006
Summer soul-searches during a visit from Seth. Taylor pleads for Ryan's help with her marriage. Sandy longs for a guys' night. Julie vows to turn over a new leaf in moving on from Marissa's Death.
The Sleeping Beauty
4.05
Josh Schwartz
November 30, 2006
Ryan can't sleep, and a smitten Taylor tries to seduce him by becoming his sleep therapist. Meanwhile, Seth vows not to call Summer, and Kaitlin struggles when Julie has a fling with her tennis instructor. Summer and Che take their activism to a new level, but pay the consequences later.
The Summer Bummer
4.06
Josh Schwartz
December 7, 2006
Summer gets kicked out Brown, thanks to her friend Che. Seth leaves Newport to visit Summer at Brown, but runs into Che. Ryan has fantasies about Taylor after kissing each other. And Kaitlin throws a party at Dr. Roberts house to get even with a popular girl. Meanwhile, Julie learns NewMatch is no longer just a dating service.
The Chrismukk-huh?
4.07
Josh Schwartz
December 14, 2006
Ryan and Taylor fall off a ladder and end up in the hospital. Taylor confronts Veronica about her attitude. Meanwhile, a letter from Marissa is sent to the Cohen house.
The Earth Girls Are Easy
4.08
Josh Schwartz
December 28, 2006
Ryan plans a surprise trip for Taylor, but Seth comes along and brings Summer, whose future is at stake. Meanwhile, Bullit gets an old friend to take care of Julie's accounting, much to her displease.
The My Two Dads
4.09
Josh Schwartz
January 4, 2007
Kaitlin fails a class presentation and is forced to work with a smart classmate, whom she ends up liking. Seth and Summer move forward with their plans, regardless of how they really feel. Sandy confronts Frank on why he's in Newport.
The French Connection
4.10
Josh Schwartz
January 11, 2007
Henri-Michel tells Ryan about Taylor's life in France, forcing him to question their relationship. Seth seeks Dr. Roberts' permission to marry Summer. Kaitlin realizes she likes Will. Summer reconnects with Holly and worries about her future. Meanwhile, Kirsten makes a shocking discovery at NewMatch.
The Dream Lover
4.11
Josh Schwartz
January 17, 2007
Che brings Seth on a trip to the forest. Taylor decides she should no longer see Ryan. Julie begs for Kirsten's reconciliation. Kaitlin shuts Will out of her life.
The Groundhog Day
4.12
Josh Schwartz
January 25, 2007
Ryan tries to act like he doesn't miss Taylor, who is seeing a therapist. Kirsten's turning 40, but has her mind focused on other things. Julie is having an affair that Kaitlin does all she can to stop. Che makes a discovery about Seth.
The Case Of The Franks
4.13
Josh Schwartz
February 1, 2007
Ryan and Taylor devise a plan to bring Julie and Frank closer, but Kaitlin tries to keep Bullit in Julie's personal life. Summer begins to have doubts in her relationship with Seth. Kirsten opens up about her past with Jimmy to Sandy as they prepare for their new baby.
The Shake Up
4.14
Josh Schwartz
February 8, 2007
Kaitlin does all she can to sabotage Julie and Frank's relationship. Ryan and Taylor tell each other how they feel. Summer encourages Seth to find something he's passionate about. Kirsten realizes what Newport's society is all about. As the night comes to a close, an earthquake hits Newport Beach.
The Night Moves
4.15
Josh Schwartz
February 15, 2007
After the earthquake, Ryan tells Seth he needs to get to the hospital, but doesn't want to worry Taylor. An aftershock leaves Kirsten wondering if her unborn baby is still alive. Taylor takes control when Summer and she hear an intruder in their home. Kaitlin and Julie are trapped in an ice cream store.
The End's Not Near, It's Here
4.16
Josh Schwartz
February 22, 2007
Six months after the trauma of the Newport earthquake, Ryan and the rest of the Cohens struggle with their living arrangements in the aftermath of the destruction of their house. Both Ryan and Taylor struggle with their feelings for each other despite knowing that they have nothing in common. Seth feels he's keeping Summer back from her activist work programs, but does not want to let go of her. Meanwhile, Julie, whom is now three months pregnant herself, is planning her upcoming wedding to Gordon Bullit, but Kaitlin realizes that she is not over Frank Atwood. Seth and Ryan visit the old house that Sandy and Kirsten lived in before there move to Newport Beach. When they pressure Sandy and Kirsten to visit their old house, where a gay couple now resides there, Kirsten happens to go into labor, and soon, Julie's wedding becomes Kirsten's baby birth scene.|}