'The O.C.' Profile: Sandy
Play Sound
Sanford "Sandy" Cohen is married to the former Kirsten Nichol. Their only child, Seth Cohen, is a somewhat geeky teenager. As a public defender when the series begins, Sandy takes the case of Ryan Atwood, who had stolen a car with his brother. He ends up becoming Ryan's legal guardian, accepting him into the family. Later, in the second season, he also allows Ryan's brother, Trey, to stay with them.
Sandy has a loving, mostly stable marriage with Kirsten, although the pair - like most married couples - does suffer from occasional conflicts. In general, though, Sandy and Kirsten resloutely face and defeat such problems, due in no small part to (or sometimes despite) Sandy's determination.
Throughout the series, Sandy serves as a moral center, often guiding and supporting his son and Ryan through their problems, bringing them both wisdom and a well-placed sense of humor.
Life before Season 1
Sandy went to the University of California at Berkeley to study law where he met and fell in love with Kirsten Cohen. Before, he had been engaged to Rebecca Bloom.
Season 1
Sandy Cohen is the rock of the family. He prides himself on being a public defender but when an offer comes from a much bigger company, Private Practice at Partridge, Savage and Kahn, he decides to go for the bigger paycheck. In reality this allows him to do more pro-bono work. His boss, Rachel Hoffman, begins to make advances towards Sandy causing problems with his marriage. Sandy finally stops the advances and eventually quits/gets fired. He then decides to open a restaurant, The Lighthouse, with his old friend Jimmy Cooper. However, after some legal troubles due to Jimmy's past, they cannot obtain a liquor license. Eventually they sell the restaurant to Caleb for millions. The season ends with Sandy saying goodbye to Ryan and telling him that he will always be welcome in their home.
Season 2
One of these situations arose when Sandy took a case to try to help his fugitive old girlfriend, Rebecca Bloom, clear her name. They shared a clandestine kiss. Though Kirsten clearly wasn't pleased about this, her understanding of her husband's compassionate nature allowed the Cohens' marriage to survive. The final reconcliation came after Rebecca finally left Newport, unable to cope with the damage she could see she was doing to her friend's marriage. He was troubled however later by suspicions of Kirsten's drinking, and began to realise she needed help. When Kirsten's father Caleb Nichol died Kirsten began to drink excessively, and Sandy convinced her to go into rehab.
Season 3
Kirsten has since returned home with him, and after Caleb's death Sandy took over management and ownership of The Newport Group. However being The CEO of Newport and the underhanded business dealings neccessary to survive have proven a test for Sandy's character. This leads to a very rough patch with his family. On the night that he is elected 'Man of the Year' he says he cannot accept the award and decides to devote himself to his family.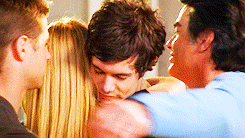 Season 4
At first Sandy returned to his old job but then took a position as a professor of law. Sandy and Kirsten welcomed the birth of their daughter Sophia Rose Cohen into the world as well.
Memorable Quotes
See Memorable Quotes by Sandy Cohen
References
Community content is available under
CC-BY-SA
unless otherwise noted.